Urban Exploring Australia Essay
Australian underground drains
-> Gallery of Photos <-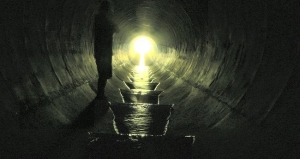 The great stairway
The famous Australian Drains!
Rare in Europe, these drains are everywhere under the australian cities. These underground drains carry out the canalization of rain water, completely separated from sewer networks.
Many of these drains are present below each city, each one having its nickname, story and features. Different shapes, sizes, entry & exit...
They are popular meeting, expression and exploration places for the Australian Cave Clan, THE urban exploration organization. The photos shown here depict the variety of these underground canalizations.
Explored drains:
| | | |
| --- | --- | --- |
| City | Name | Comment |
| Sydney | Swoo | A strong slope gave this drain its name. When you slip, Swoooooo! |
| Sydney | Drainstation | A Train Station can be seen from this drain |
| Adelaide | Adelaide Darkie | Adelaide's classic |
| Adelaide | Zorga's Tomb | Zorga's fiund |
| Adelaide | Saint Peter's Twins | Twin tunnels |
| Adelaide | Eli's Tomb | In the country, this drain is shaped in natural rocks. |
| Melbourne | The 10th | Huge cavity. This drain was the tenth found below Melbourne |
| Melbourne | The Great Stairway | A long stairway with mini waterfalls. |
| Melbourne | ANZAC | THE meeting place under Melbourne |
| Melbourne | The Maze | Complex and large drain |
| Melbourne | The Slide | Slippy slopes! |
| Melbourne | G.O.D. | Great Oversized Darkie! |
Thanks to my Cave Clan underground guides from Sydney, Melbourne & Adelaide: Doug, Curly, Eli, Al, Rogue, Drac... Big big thanks to you guys and... Go In Drains ! ! !
-> Gallery of Photos<-
Based on several years of near-nightly excursions into London's disused, non-public, forgotten, subterranean and infrastructural spaces, this article considers the significance of discovering years - or even decades - old surviving traces of graffiti ('ghosts', in graffiti parlance) in situ. The article also draws on extensive ethnographic research into London's graffiti subculture, as well as in-depth semi-structured interviews with several generations of graffiti writers. The article proceeds in four parts. The first part reflects on three sources of methodological inspiration: unauthorised urban exploration and documentation; more-or-less formal archaeological studies of graffiti; and 'ghost ethnography', an emergent methodological orientation which places an emphasis on absence and the interpretation of material and atmospheric traces. The second part of the article considers recent theoretical work associated with the 'spectral turn'. Here, ghosts and haunting provide useful conceptual metaphors for thinking about lingering material and atmospheric traces of the past. The third part of the article offers some methodological caveats and reflections. The fourth and final part of the article seeks to connect theory and method, and asks what significance can be drawn from unauthorised encounters with graffiti 'ghosts'.