My Favorite City Istanbul Essay
Talk with people living in Turkey's biggest city and they'll tell you: Istanbul's amazing. It's the best city on Earth. Here's why.
1. Our city is legendary.
If our city walls could talk, they'd recite hundreds of legends involving mythological gods, prophecies fulfilled, and tales of love lost and betrayal that make our city so enchanting. The Bosphorus itself — the strait between Asia and Europe — was born of the myth of the beautiful mortal Io. She was turned into a cow by Zeus to hide their tryst from his vengeful wife, Hera. Not to be fooled, Hera stung Io with a horsefly, sending Io crashing away, leaving behind the legendary strait — otherwise known as the "passage of the cow."
2. Three empires fought to claim her as their capital.
We're not the first to be smitten with the city's commanding views. The Roman, Byzantine, and Ottoman empires all fought to claim the city's real estate as their capital to dominate trade between the Mediterranean and Black Seas.
3. Ancient and contemporary, our architecture is magnificent.

Photo courtesy of the Turkey Ministry of Culture and Tourism
From Ancient Hellenic sites to modern-day architectural feats, our enduring monuments — the ancient Hippodrome, the 20th-century Bosphorus bridges, August Jasmund's Sirkeci train station, Mimar Sinan's Süleymaniye Mosque — are celebrated worldwide for their grandeur and style.
4. We've got World Heritage Sites above and below ground.
Over 650 hectares of our old city is UNESCO World Heritage listed, preserving the likes of Topkapı Palace, Hagia Sophia, and the subterranean Basilica Cistern for generations to come.
5. Our monuments are made by the finest artisans.
Late Byzantine restorations by the wealthy Theodore Metochites bejewel Chora Church with gilded mosaics and heavenly frescoes; Seyyid Kasim Gubari, considered the greatest calligrapher of his time, brushed the 17th-century Blue Mosque with golden verses of the Quran; artisans handcrafted 20,000 blue Iznik tiles to give the Blue Mosque its colour and name.
6. We have Ottoman palaces in which to rest and revive.

Photo courtesy of the Turkey Ministry of Culture and Tourism
The days of sultans may have passed, but we can still live a life of opulence in their Bosphorus-side palaces. Çırağan Palace Kempinski and Four Season Hotel Istanbul at the Bosphorus are two such places that have lavish accommodations, gourmet restaurants, poolside pampering, and panoramic views.
7. We can play in the snow in winter…
The seven hills of Istanbul transform into a winter wonderland when the temperatures drop towards zero from December. Snowball fights in Sultanahmet Park, surrounded by the Hagia Sofia and Blue Mosque dusted in snow, is a favorite way to spend a winter's day in the city.
8. …and in the water in summer.
As the humidity rises in June, we head for the beaches of Princes' Islands, party at Suma Beach by the Black Sea, or laze by the pool at the sophisticated manmade island of Suada.
9. Golden sunsets silhouette our skyline all year.

Photo courtesy of the Turkey Ministry of Culture and Tourism
Our sunsets are hard to describe, especially when the call to prayer echoes out across the city. The Galata Tower, along with any number of terrace restaurants and bars scattered around the Old City and Beyoğlu, provide exceptional views of the vanishing sun. To get a picture of that classic Istanbul skyline at sunset, hop on a boat from Karaköy to Kadıköy.
10. Remnants of centuries gone by decorate our modern lives.
We can enjoy the colors and aromas of Sultanahmet's weekly food market by the ancient Sphendone, or take a cruise across the Bosphorus to celebrate birthdays and weddings at the Maiden's Tower — a city landmark since the 5th century BC. The remnants of 8,500 years of history touch us as we go about our daily lives.
11. There's another city under this one.
Speaking of remnants — we can also access the Istanbul of centuries past by heading underground. Organized tours take us directly into the Byzantine past, to the bygone palaces that undergird our mosques, to ancient chapels hidden under the kilim stores of Sultanahmet. The spaces our ancestors used as cisterns are today restaurants and wedding halls. If you want to catch a glimpse of this subterranean shadow city, make sure to check out the Museum of Great Palace Mosaics in Sultanahmet Square, the Basilica Cistern next to the Hagia Sophia, and Sultan Sarnıç (now a wedding ceremony hall).
12. Come spring, we color our city with millions of tulips.
The winter greys make way for springtime colors in April when 20 million tulips bloom throughout our city for the annual International Istanbul Tulip Festival. With camera in hand, we head to Emirgan and Gülhane parks to see the best of the displays the city has to offer.
13. Our rooftops have views like no other city.
Gaze across two continents from one seat high above the bustling streets at rooftop restaurants across the city. There are plenty to choose from; a few of my favorites are Mikla and Leb-I derya in Beyoğlu, along with 360 East on the Asian side.
14. Hollywood is captivated by Istanbul.
Hooray for Hollywood! It's shown our city's best side on silver screens around the world. Taken 2, The Water Diviner, several 007 classics, and the soon-to-be-released Inferno are a few of the blockbuster films that have shone a spotlight on the finer features of Istanbul.
15. The Bosphorus-side clubs are incredible places to see and be seen…
With multiple restaurants, extensive Bosphorus views, and parties long into the night, Reina and Sortie by the First Bosphorus Bridge, or Anjelique in Ortaköy, are where we go to party with the A-listers in town.
16. …but we actually prefer casual evenings out.
Our city rarely sleeps, so we often don the jeans and t-shirt and head to the back alleys of İstiklâl Caddesi to take advantage of the fusion of beats on offer. From world music, to R&B and hip hop, to live bands, every taste is accommodated.
17. Our city inspires the work of artists.
Mark Twain, Ernest Hemingway, and Agatha Christie all found their muse in Istanbul. Turkish writer Orhan Pamuk earned a Nobel Prize for his writings about the city. Countless songwriters, poets, designers, and photographers have all uncovered a creative utopia here.
18. The contemporary arts scene is world class.
International festivals celebrating theatre, film, music, jazz, visual arts, and culture at large take center stage on a yearly basis, complementing the regular events at Istanbul Modern, Pera Museum, Santral Istanbul, Garajistanbul, and the art galleries of Tophane.
19. The ticket to travel from Europe to Asia is as low as US$2.
As the only city in the world to straddle two continents, public transport means intercontinental travel within our city is that cheap — even cheaper with an Istanbulkart bought from roadside confectionery kiosks.
20. We're masters of the Turkish art of keyif.
Keyif, the art of idle relaxation, is welcomed in every cafe, home, and business here. We love nothing more than to take a seat with friends and strangers and dine, drink, and chat for hours.
21. Afternoons with Turkish coffee give us a glimpse into our future.

Photo courtesy of the Turkey Ministry of Culture and Tourism
We say drinking Turkish coffee with friends is worth 40 years of friendship, but the dark grinds within the coffee cup can show how loyal those friendships will remain. Inquisitive souls can head to the kahve falı (coffee reading) cafés in Kadıköy and off Istiklal Street to slowly sip a demitasse of Turkish coffee before having their fortune read to see what fate awaits them.
22. Hospitality isn't our job — it's our way of life.
We believe that guests are a gift from God, so we always make sure our guests experience our culture, taste our best cuisine, and see our favorite places around the city.
23. Turkish breakfasts are the best meal of the day.
Ripe tomatoes, crispy cucumbers, olives, eggs, jams, and freshly baked bread spill out across our breakfast table alongside never-ending glasses of çay most days of the week.
24. The cuisine is as diverse as our country.

Photo courtesy of the Turkey Ministry of Culture and Tourism
A blend of three empires, eight bordering countries, four neighbouring seas, and myriad ethnicities goes into our cuisine. Add to the mix generous amounts of Western gourmet influences and spicy flavours from Southeast Asia, and you've got some of the best food anywhere.
25. Our neighbourhoods have unique personalities of their own.
The absence of a city center means our neighbourhoods are the places to appreciate the lifestyles that make our city so vast and wondrous. You can people-watch in a café in tourist-friendly Sultanahmet, get down with the city buskers of bohemian Galata, feast on the gourmet delights of culinary Karaköy, and explore Kadıköy and Moda, the newest hotspots for Istanbul's youth.
26. There's no doubt — Istanbul is a top destination.
MasterCard has rated Istanbul one of the most-visited cities in the world since 2013, and TripAdvisor named us as a top destination for travelers in 2014. With 8,500 years of history, top shopping, cool bars, friendly people, and delicious food, we know we're not the only ones who hold Istanbul in such high regard.
27. Even Napoleon once said, "If the Earth were a single state, Istanbul would be its capital."

Photo courtesy of the Turkey Ministry of Culture and Tourism
And we tend to agree.

Istanbul is one of my favorite cities in the world. Its unique east-meets-west culture is fascinating and its food is hauntingly delicious. But beyond the things that make Istanbul stand out are the everyday things that make it such a pleasant place to be. The streets are picturesque and walkable. The trees all seem old enough to tell stories. The weather is generally mild. And the windy air above the Bosphorous Strait makes the city feel like my hometown, San Francisco. I've only found a few places in the world that I've connected with so easily, and Istanbul is definitely one of them. I love this city.
Here, I've put together a list of some of my favorite places in Istanbul. Some are big sites that are still amazing regardless of how many times you've seen them. Some are small cafes and shops that I would return to in an instant on my next trip. (A quick note that my recommendations are all in Beyoglu and Sultanahmet. Kadikoy is next on my list for my next trip to Turkey. And visiting the Princes Islands is a whole other post.)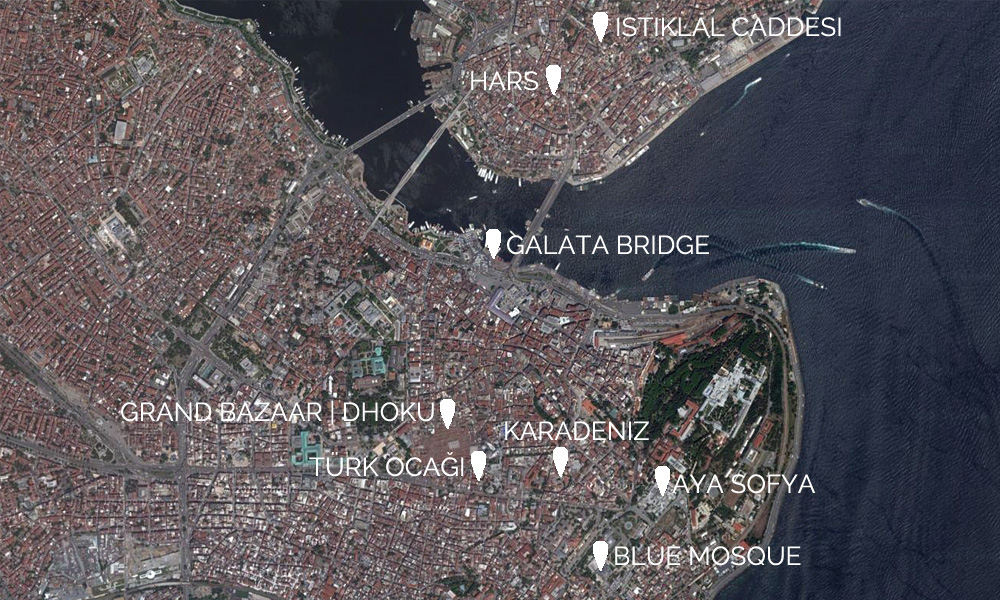 My list starts off in one of Istanbul's most important and well known landmarks. A place that in many ways is symbolic of the changes that Istanbul has gone through over the last few centuries and embodies the artistry and beauty of Turkey.
AYA SOFYA
Aya Sofya, or Hagia Sofia, is one of the most important landmarks in Istanbul. It's purpose has changed over the centuries like a chameleon – it was once a cathedral, then it was mosque, and now it is a museum. But despite it's identity changes, it has always had the same silhouette upon the Istanbul skyline – piercing minarets that tower over Istanbul's other mosques. Also, the chandeliers here are romantic and elegant – definitely one of my favorite things in the whole city.
Tip: go here first thing in the morning when the light is soft for photography and the line to get in is still short.
Read This: Beautiful Aya Sofya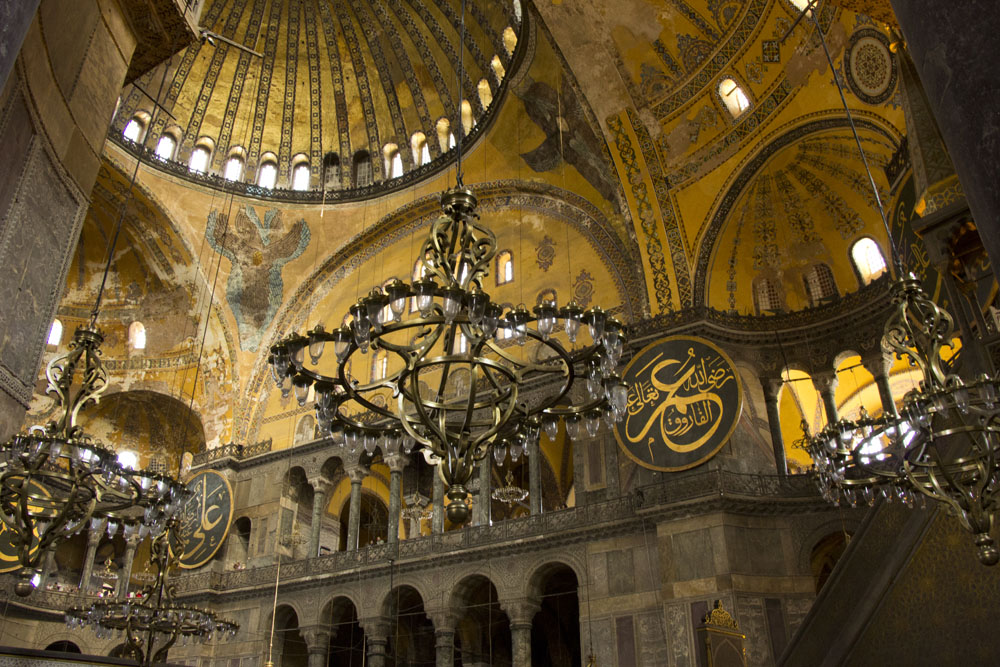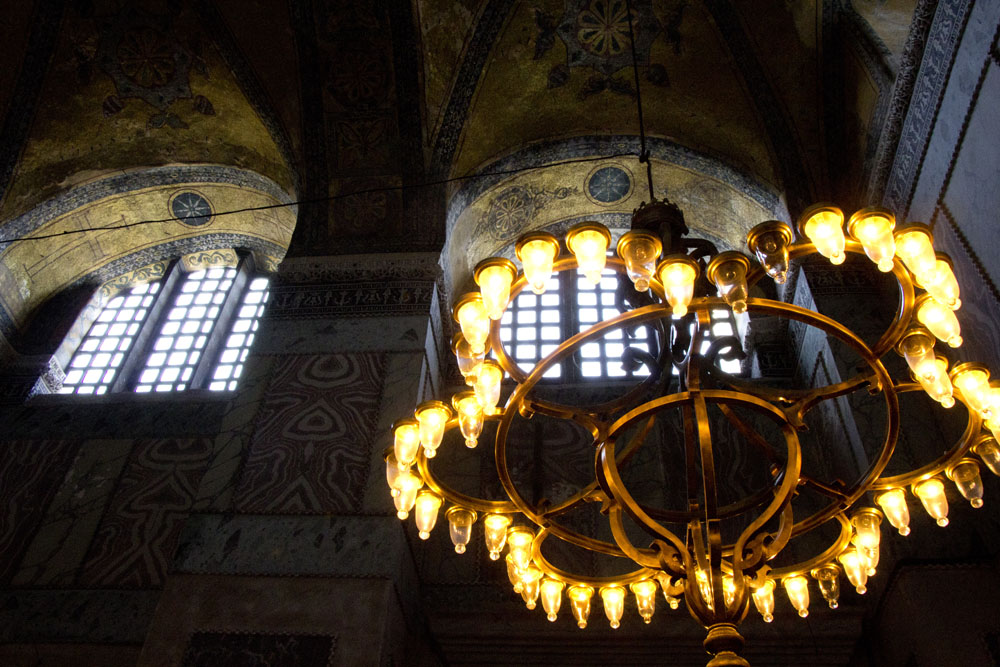 THE BLUE MOSQUE
This mosque is pure art. The perfectly balanced architecture on the outside and  the somber artistry on the inside are unrivaled.  Just a note – the mosque does close to visitors during prayer times, so be careful when you plan your visit.
Read This: Notable Photos: The Blue Mosque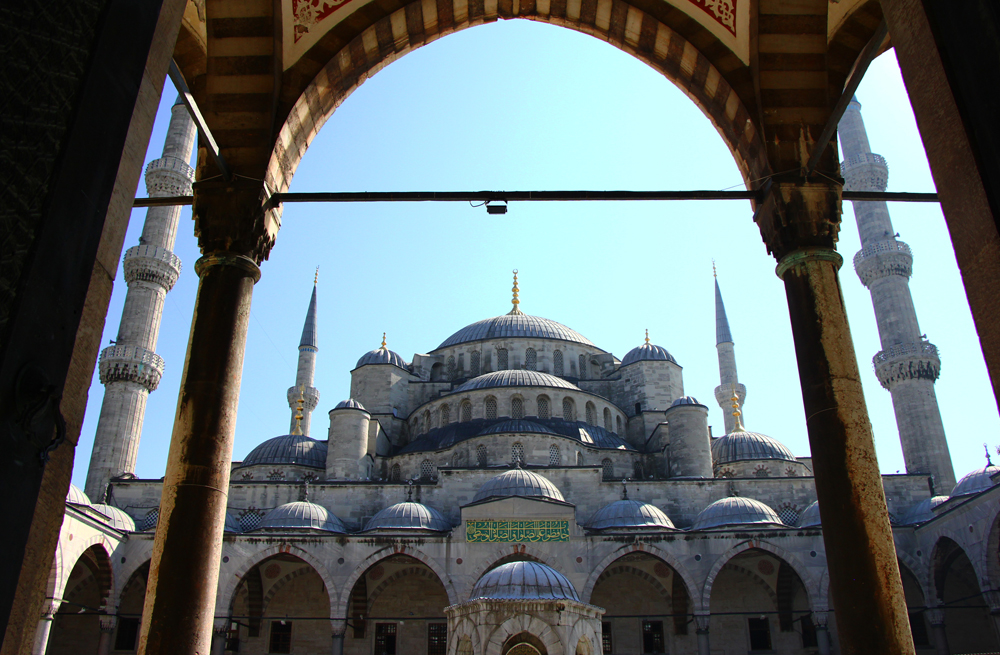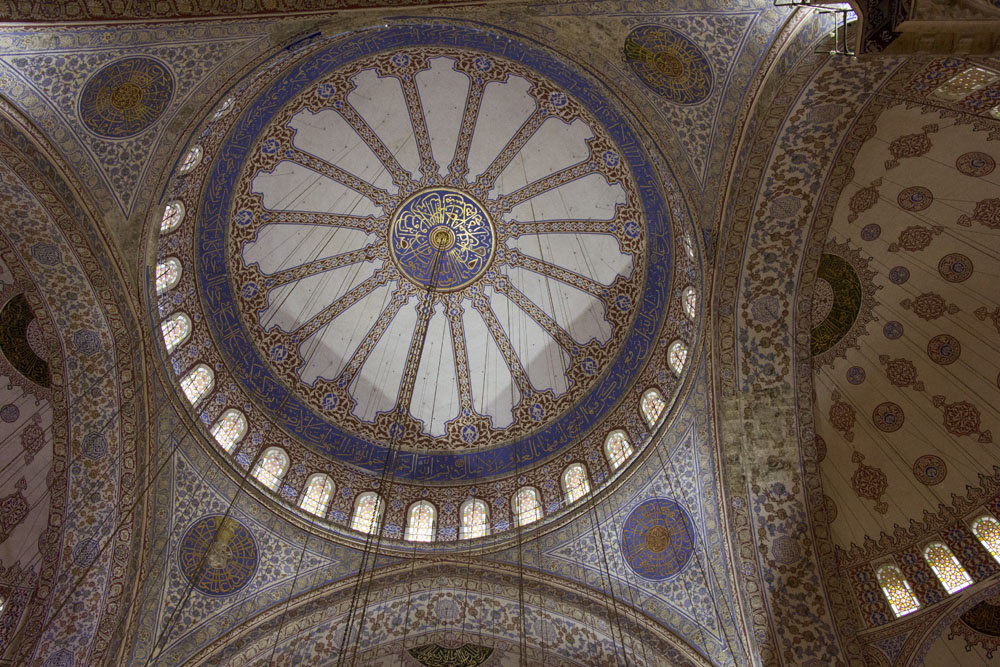 KARADENIZ
There are a lot of different styles of kebabs (or kebap) to try in Turkey. Some are on a stick, some are swaddled in dough, some are baked in clay. But my favorite one is far messier than those – iskender kebap. This dish takes pieces of juicy meat and airy bread and bathes them in tomato butter sauce along with yogurt and peppers. Oh yeah. My favorite place to grab this dish is the pide and kebap restaurant called Karadeniz. It's right near the Blue Mosque and looks like nothing too fancy from the outside. But what's made inside – including the boat-shaped and pizza-like dish pide as well as the iskender – is delicious.
TÜRK OCAĞI
Just a short walk from Karadeniz is the nargile/hookah cafe Turk Ocagi. The cafe itself is hidden from the street behind the walls and pathways of an old cemetery, but I promise you'd never know that you are in a cemetary. It's like a little indoor-outdoor oasis away from the tourists in the middle of the tourist center. There are heated patios and wifi as well as a selection of tea, coffee, juices, and flavored tobacco. Note that they do not sell alcohol or food.
Here's the yelp page: Turk Ocagi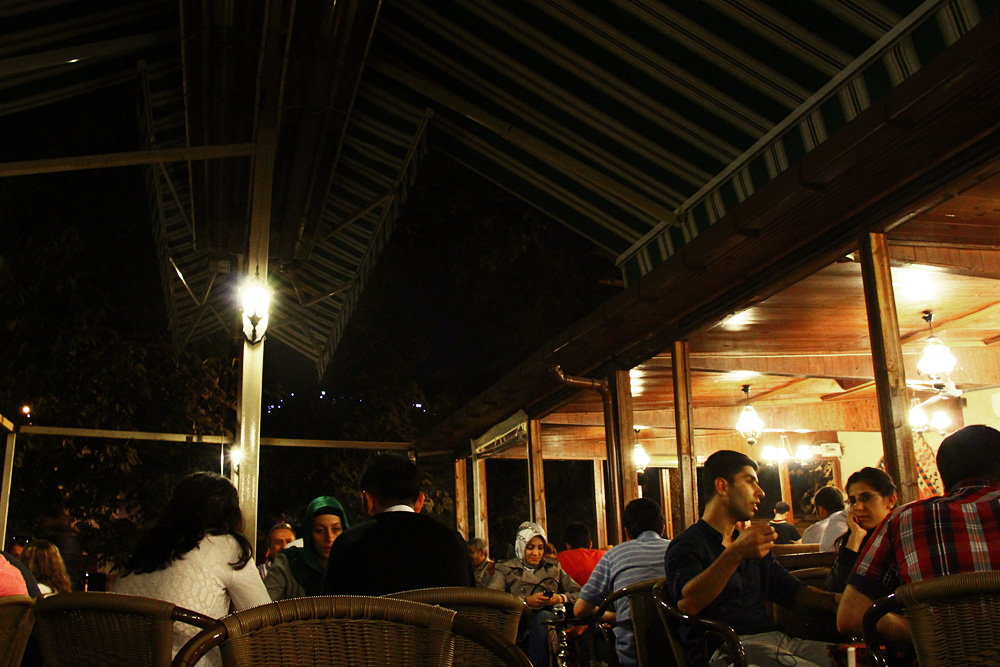 GRAND BAZAAR | DHOKU
Shopping was one of my favorite things to do in Istanbul for a few reasons. First of all, trading and bargaining for goods is a big part of the cultural history of this city. After all, Istanbul (once Constantinople) was a stop on the legendary Silk Road. Secondly, it is a perfect way to get to know the crafts and art styles of a destination. Turkey has such unique and interesting style, even just looking at all of the shiny and delicate items for sale is an experience. Lastly, there are so many beautiful things and I wanted to bring a little piece of Istanbul home with me.
Enter Dhoku. For my personal subtle/eclectic/earth-toney style, Dhoku's modern styled carpets were perfect. They are handmade with local organic wool in the traditional style but use understated graphic and patchwork designs. Also, they are sold by the square meter so bargaining is not necessary here. A lot less work than a regular bargain-style carpet shop.
Read This: Carpet Shopping in Istanbul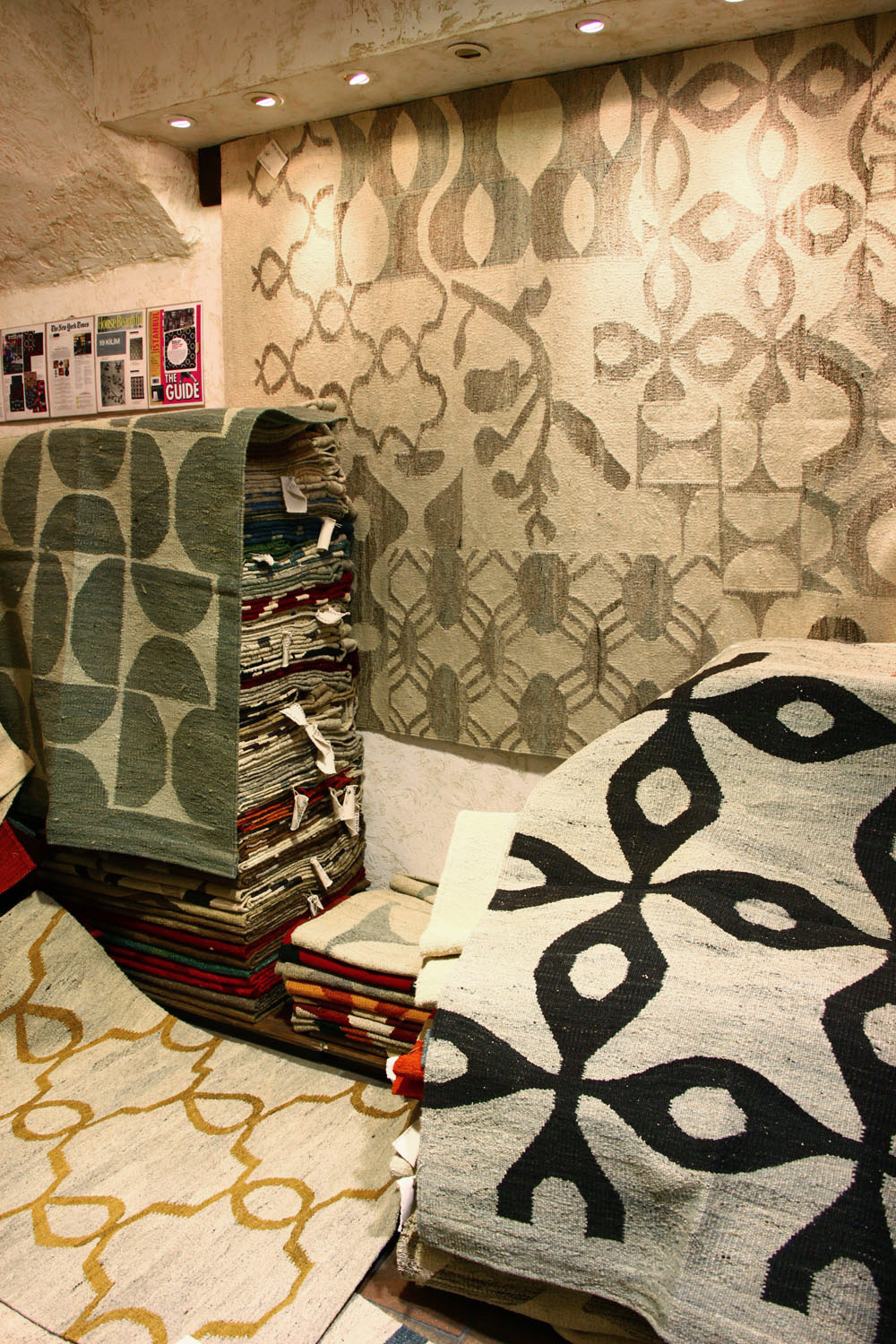 FISH, FERRIES, AND PHOTOS AT THE GALATA BRIDGE
The Galata Bridge area, to me, embodies the best of Istanbul's energy. Between the Spice Market, the New Mosque, the fish restaurants, the bridge that leads to Beyoglu, and the ferry docks, there is a lot going on. And with all of this, there are still little corners where you can sit down and enjoy a coffee or tea or a kebab. Or a bench with a view where you can enjoy a simit.
Riding the Bosphorous ferry, which leaves from the ferry dock, was one of my favorite ways to see the city. I highly recommend it – especially if you are only in town for a few days.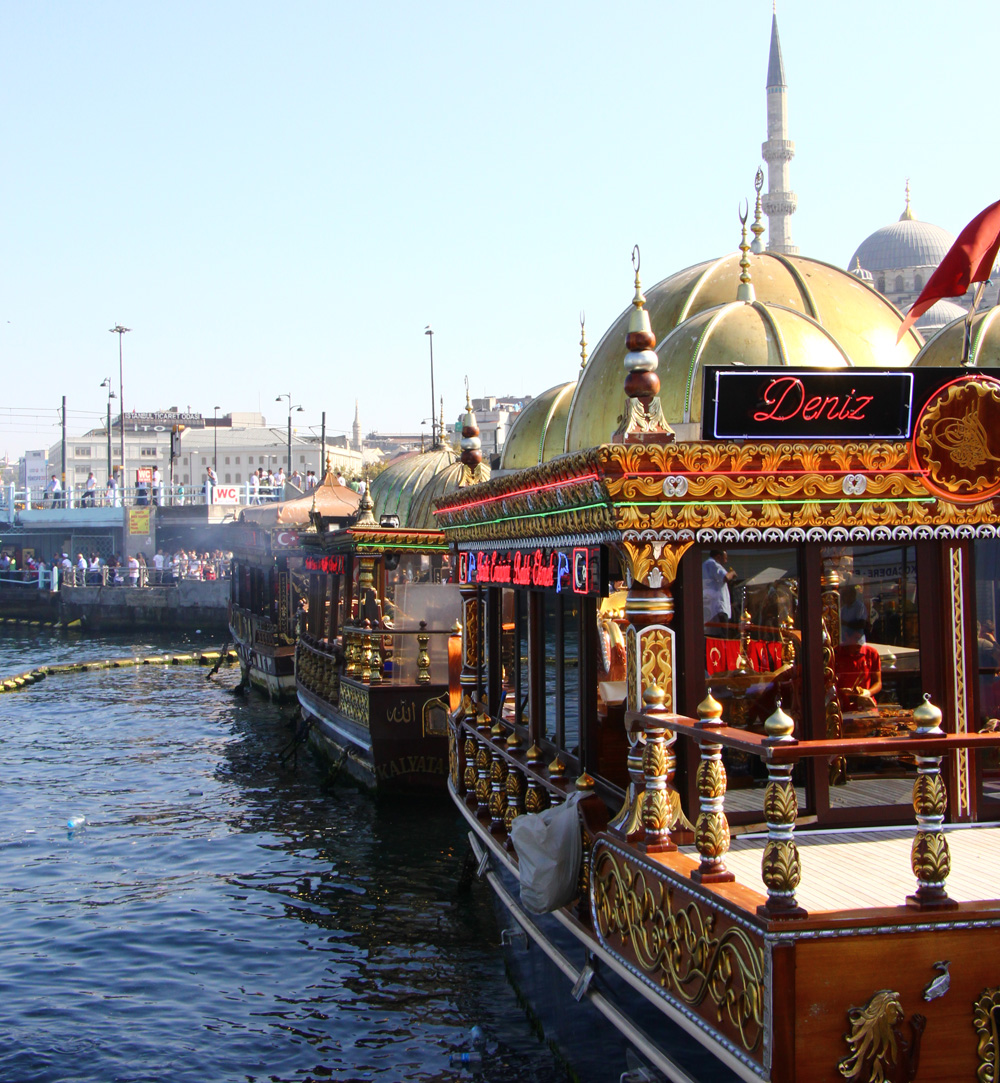 HARS
In addition to finding myself a rug, I wanted to bring home a few gifts for family. I was on a hunt for super soft Turkish towels for my mom to use in her newly renovated home.
Hars, a shop I found on the quieter side of the Galata tower, was the ideal place to grab them. Their shelves look like rainbows because they have so many colorful options and sizes. After the fun of purchasing several for my mother, I was convinced I needed a few myself. I do not regret that choice.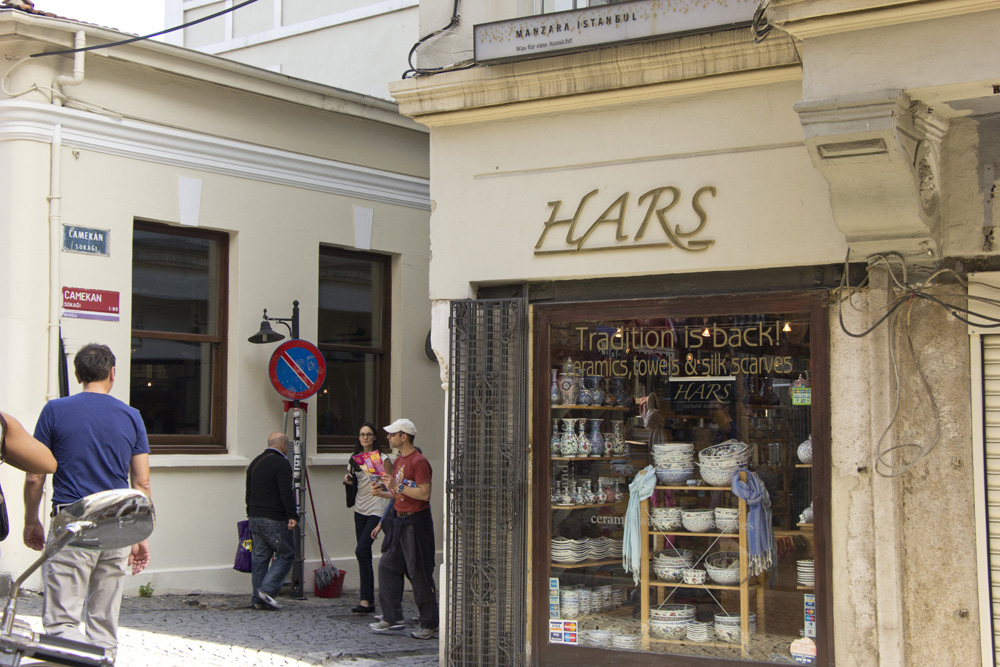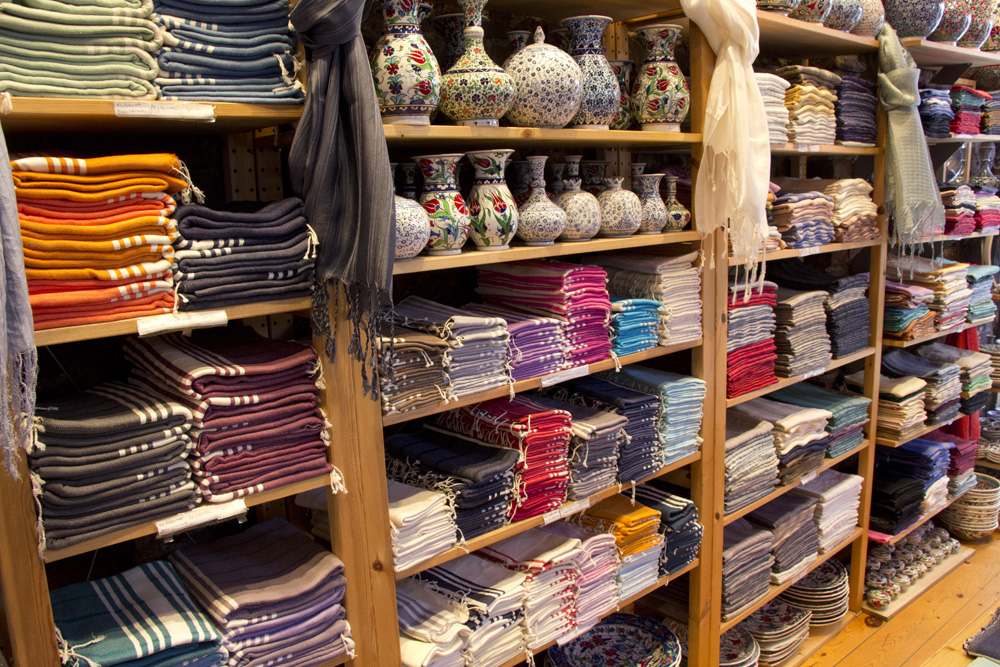 ISTIKLAL CADDESI
The Istiklal Caddesi is a street in Beyoglu only open to pedestrians and to an old New Orleans-esque street car that leads from Taksim Square nearly all the way down to the Galata Tower. This is the where you go if you want to stay out all night, listen to music, be seen, and have some drinks. It's also where you go during the daytime to shop at modern/western stores and have a tea. We spent a fair amount of time around here at all hours of the day and it was extremely rare to find it empty or quiet. Especially in the middle of the night when the crowds are the largest. People spill out of bars and clubs well past 4am. I'm not big on the club scene, but I was happy to find one that suited my rather picky and slightly underground music tastes. (Indigo, listed as the #3 best club in Istanbul by The Guardian)
Just a note that while there are hotels right on the this street, I would be hesitant to stay there due to noise. We chose a tiny guesthouse, Eastwest Hostel, about 100 yards down a small side street and had no noise issues.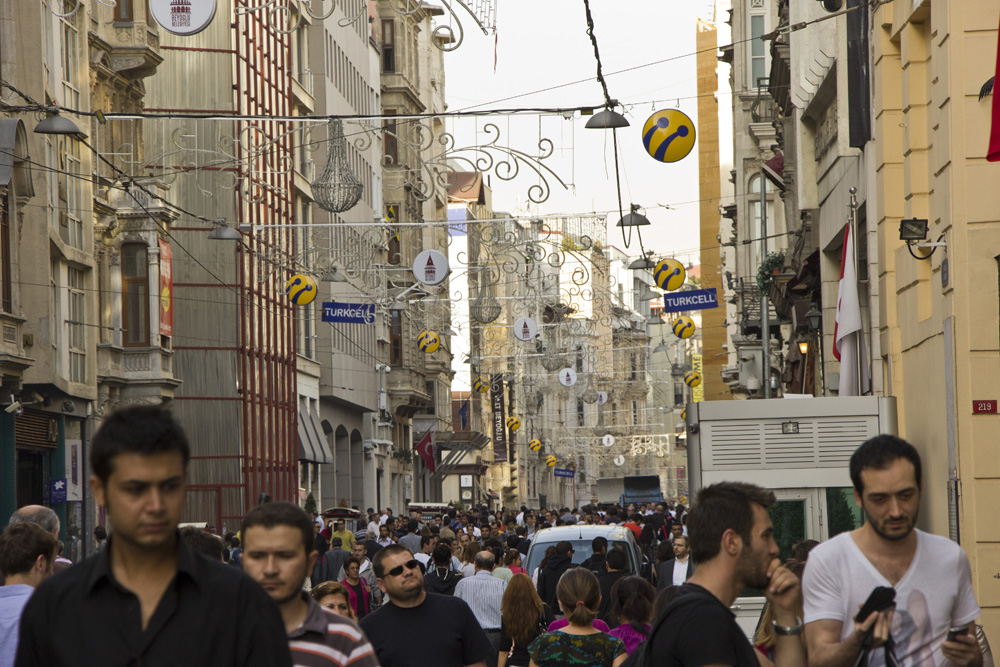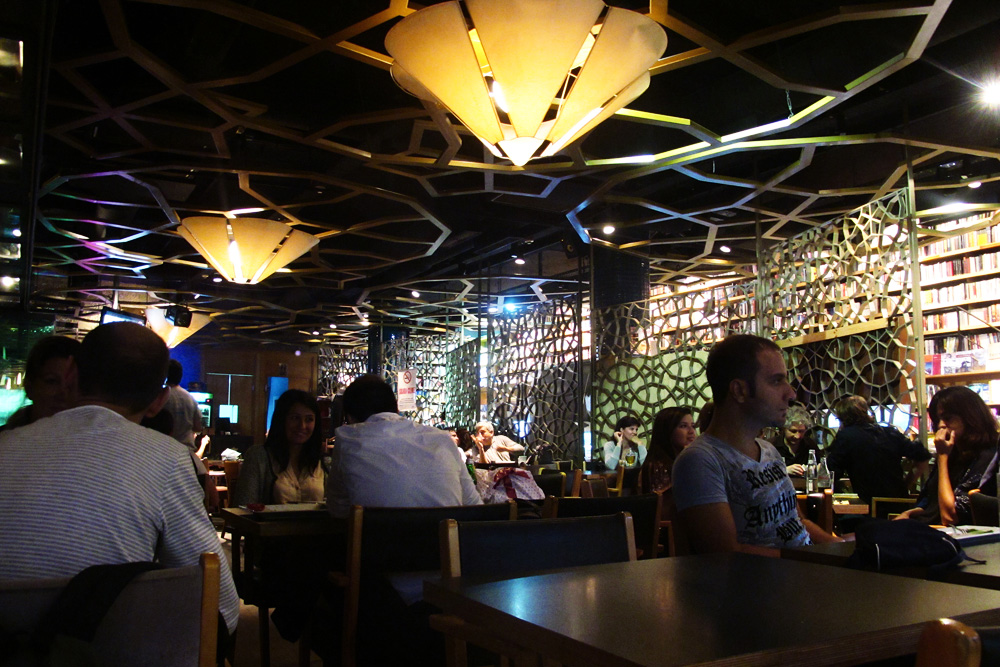 Bookstore meets cafe right on Istiklal Caddesi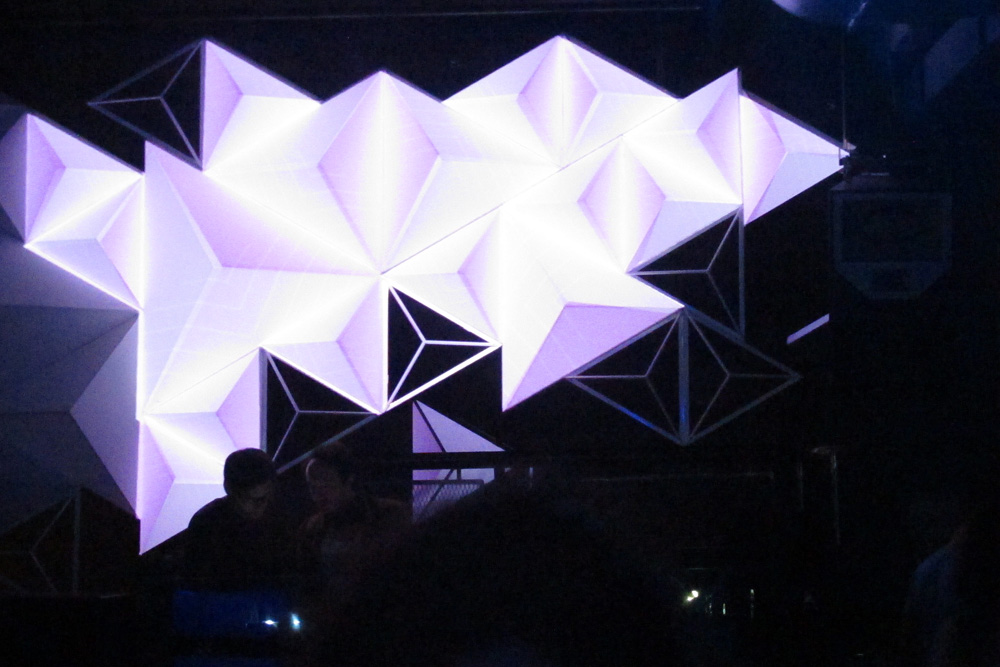 Geometric DJ lights at Indigo, right off the main strip.
THE BOSPHOROUS
Last but DEFINITELY not least, being on the water looking back at the city is hands down the BEST place to be at sunset. Sure, the views over the Galata bridge are stunning, and sure, looking up on Aya Sofya during the warmth of golden hour is nice. But being on a boat watching the Istanbul skyline in silhouette against an orange sky was my absolute favorite moment in this city. I wouldn't have missed it for the world.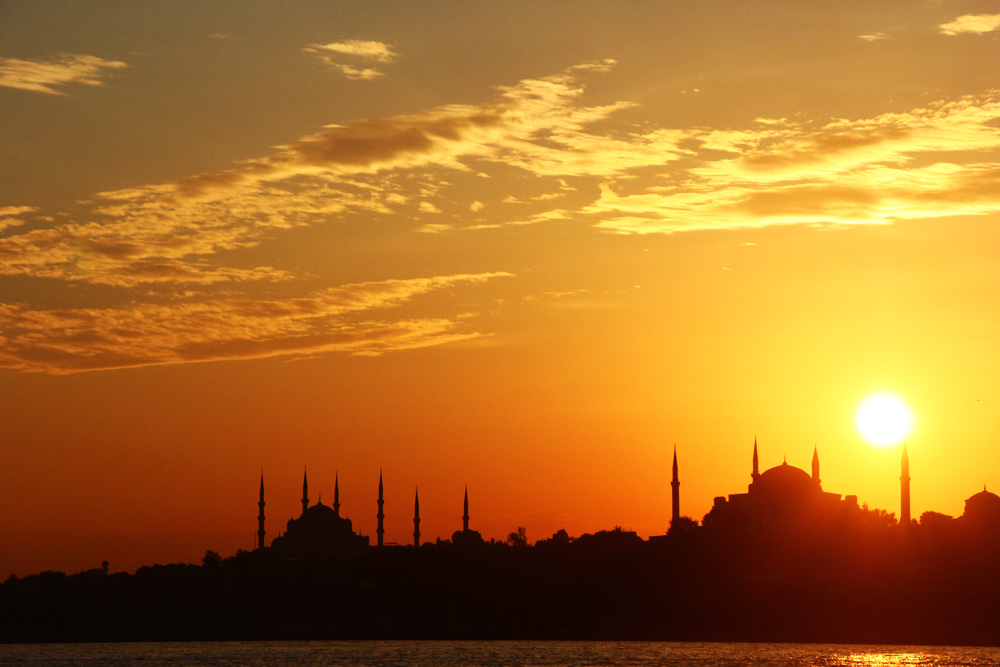 I hope to find more gems to share with you on my next trip to Istanbul.
---
In the meantime, tell me: where are your favorite places in Istanbul?
---
cityeuropefavorite placesistanbulmiddle easttourturkey